Becker
"The strong shall stand and the weak will fall by the wayside"
Private Tristan Becker
Canadian Infantry
Theater: The Fall of France
Nationality: Canadian
Formation: The Greatest Generation - BEF
Position: Machine Gunner
Rank: Sergeant
Status: Active
Background:
Born January 15, 1915 to Franck and Claire Becker of Vancouver, Canada. His parents were of lower middle class within the area. His father made a living as a journalist often writing articles concerning local politics. Franck never served in the Great War due to leg injury suffered during a hunting accident prior to the break out of the war. This injury forced the man to require a cane in order to walk. Never the less, the Becker Family lived well within their means in the booming post World War 1 Vancouver.
Becker had done well throughout school, though not well enough to get the scholarships required to go through college. With the family's budget, he was able to attend a lesser university and within two years had dropped out to due financial difficulty.
Becker throughout his school years Becker had been an athlete. Cross-country running and the 5k run had been his sporting events. With this talent, he would earn a few scholarships, but never enough to help with his financial difficulties.
Determined to make it out on his own and see more of the world then British Columbia, Becker enlisted in the Canadian Army as an infantryman. Becker started on a bad foot within the military receiving low marks in his performance until he was assigned to the BEF in Arras France. Having been stationed there for the last year and with war looming on the horizon, the Canadian soldier got his act in order knowing that the war was now real. His performance reports have improved and he has been labeled as reliable soldier with attention to detail. He is also noted for his technical expertise. If not for his poor performance reports early in his career, he might have been on the path to becoming an NCO.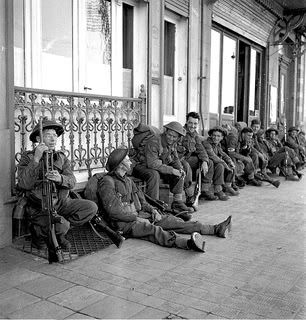 Roleplay Logs:
Letters:
page revision: 17, last edited: 18 Feb 2008 23:33